Today I am soo excited to tell you all about edens new additions in storage and bath and body. I am so excited that they carry a vast amount of products to purchase that are for everyone. First let me tell you I own alot of the eden logos like the beachtowel, the shopping bag and the teeshirt And I love them and use them to promote eden often.
They have a new line of bath and body products I can't wait to buy some and try them out and some will make awesome gifts for christmas or anytime of the year. I have afew people on my gift list that doesn't get in to the sex toy line or any of that so I am glad eden now has bath and body products for them as well.Check out the new products discover old products.
They also carry adorable storage hide away pillows three different ones. I own the first one and I use it alot just to hide varioues things usually my keys since I lose them so often.It is pretty good sized and could hold the unmentionables as well and no one would ever know for sure. It is soo soo soft too . I love this pillow and plan on buying more and have baught them as gifts for people and have only heard great things from them about it. Now I want to own both of the other ones as well they are sooo adorable. The cutest throw pillows I've seen .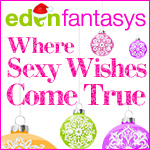 EdenFantasys, an online retailer of
sex toys
, provided me with a gift card in exchange for this post. All opinions are my own.I could go on and on but I won't about eden and all of their products my best advice is to check it out for your selves.